Contact us or sign up to get the latest news from YKK
How We Combat Counterfeiting and the Evolution of Our Trademark
What is a Counterfeit Product?
A counterfeit product is a fraudulent imitation of a product that uses its trademark illegally. Counterfeits often mislead people concerning the origin of products. Counterfeits gain unearned profits and damage our business and our brand's reputation since the we cannot guarantee the quality of counterfeit YKK® products. Counterfeits create additional legal risks because, while they bear our name, they may not comply with laws like the Consumer Product Safety Improvement Act (CPSIA), a federal law requiring that it be demonstrated that products do not contain harmful levels of lead and phthalates in children's products.
In 1991, YKK established an Anti-Counterfeiting Committee to take the lead in combating counterfeit YKK® zippers. As the globalization of the world economy continues, YKK is now taking action against counterfeiting not only in countries with YKK manufactures, but also in countries that only import YKK® products. Moreover, each YKK business division takes the lead in anti-counterfeiting activities as a part of its business operations.
We often learn about imitations of our customers' products which contain counterfeit YKK® zippers through the YKK Group's activities to eliminate counterfeits. By sharing the information we acquire regarding counterfeits with our customers, we help to eliminate both counterfeit YKK® products as well as counterfeits of our customers' products. We also exchange information with our customers who implement programs to fight counterfeiters as well as our expertise regarding counterfeit detection at manufacturing sites and during seizures at Customs.
YKK's Anti-Counterfeiting Measures: The Purposes of our Brand Protection Activities
    Protect the values of the brands
    Protect consumers and customers
Why Must Counterfeit Goods be Eliminated?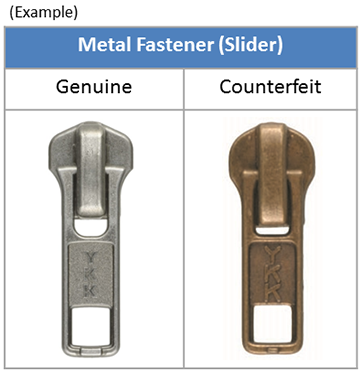 Counterfeit goods diminish the consumers' confidence in manufacturers of genuine products and undermine brand values. In addition, counterfeits are often defective, especially when manufactured by irresponsible companies. Others feed their profits into criminal organizations.
Counterfeit goods may also contain materials that are dangerous. While there are laws dealing with the use of substances that are harmful to human health and safety, such as REACH in Europe and the CPSIA in the US, counterfeits often do not meet these standards. Hence, counterfeit zippers may cause unexpected problems for businesses, namely garment producers. We strongly recommend all customers to purchase genuine YKK® zippers through legitimate channels. The YKK Group will continue to enhance the quality of our products, aiming for a level that cannot be replicated by counterfeiters.
Our Fight against Counterfeiting
We are committed to eradicating counterfeit products from the market. Our efforts include market research to actively discover counterfeiting, petitions for seizure by Customs Authorities, requests for raids, and judicial actions. Our goal is to take additional steps to monitor distribution channels while working to eliminate counterfeits and to ensure that all of our customers use genuine YKK products.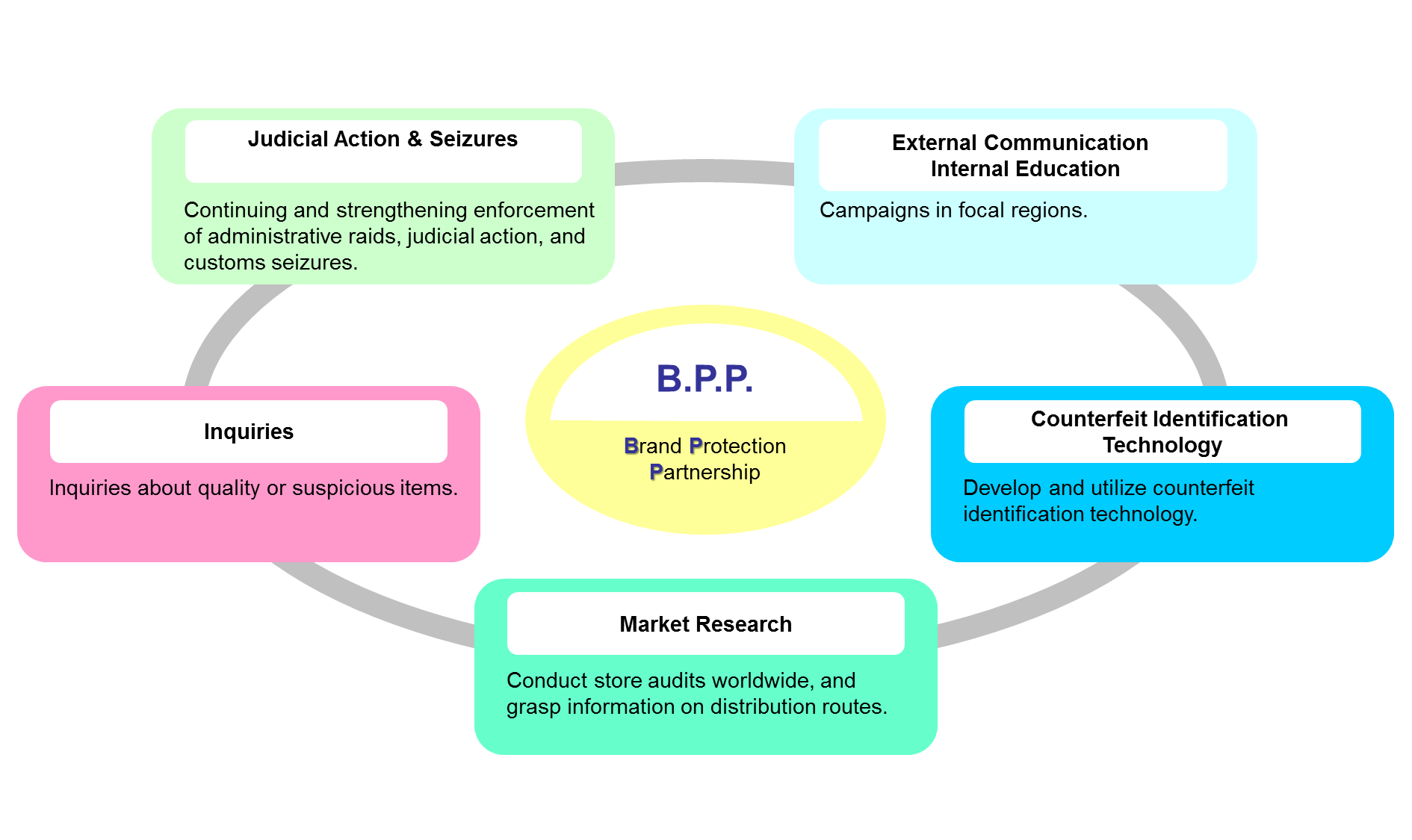 Brand Protection Partnership
Information exchange meetings
Advertisements featuring our anti-counterfeiting campaigns are published in trade newspapers and other related mediums. Our activities extend beyond efforts within the Group and often become much more effective when we exchange information or collaborate with customers and entities inside and outside of related industries. We work hand-in-hand with all parties concerned, particularly in revealing violations, seizing goods at Customs, and combatting fake products being sold on auction websites. Through such activities, the YKK Group strives to strengthen its Brand Protection Partnership (B.P.P.).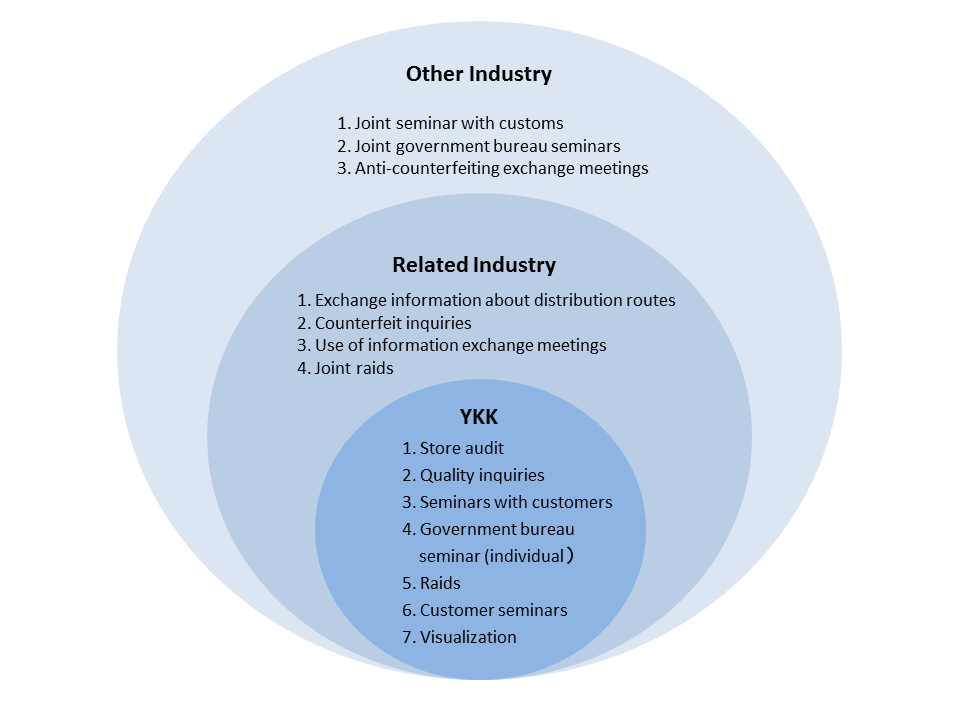 Global Anti-Counterfeit Activities
Confiscations
We are taking aggressive legal action in an appropriate manner for each country/area in the area of confiscation. At the same time, we are cracking down on manufacturers and distributors of counterfeit products.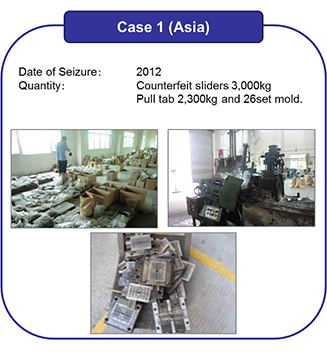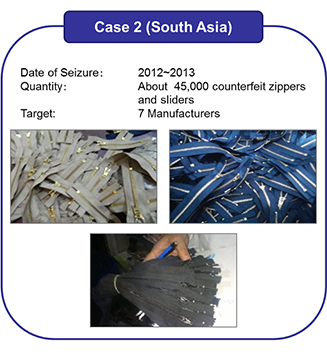 Customs Seizure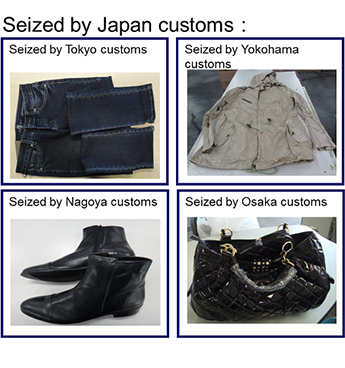 Japan and US customs seize counterfeit YKK zippers sewn on garments, bags, and shoes.
Support for Brand Protection Activities: YKK trademark registrations across the world
The trademark "YKK" has been registered in 177 countries and regions across the world, while YKK® fastening products are currently sold in 71 countries and regions worldwide. Additionally, the YKK Group actively obtains other intellectual property rights such as patents, utility models, and design patents.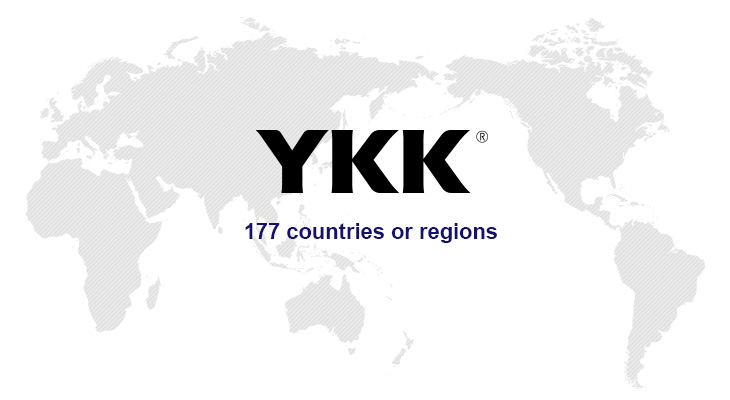 History of the "YKK" Trademark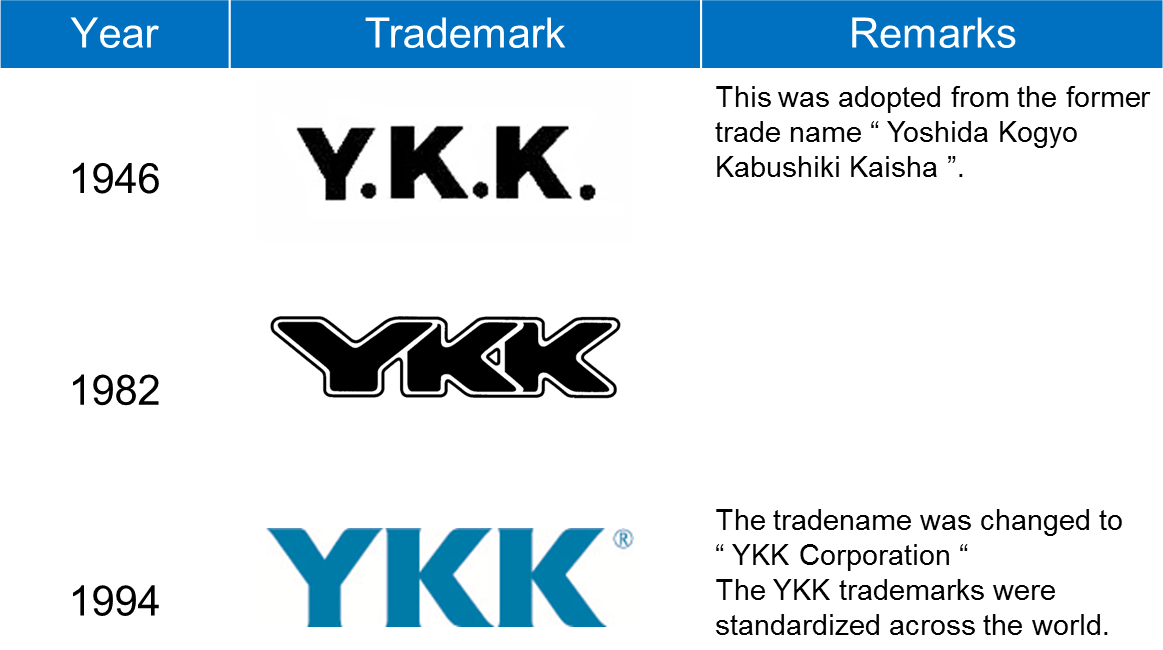 Trademarks of YKK products
In addition to the trademark "YKK," various trademarks for products that the YKK Group manufactures and markets have been registered.
The following shows examples of the trademarks registered in Japan or other countries and regions.
Metal zippers
CZiP®.
Plastic coil zippers
DURA COIL®.
ZIPLON®.
Injection-molded plastic zipper
ez-TRAK®
Plastic Hardware
ZIPCAP®.
Hook & Loop
cosmolon®.
Snap & Button
ELITE®.
WetStop®.
"YKK" and the combined mark of "YKK Little Parts. Big Difference." are registered trademarks of YKK CORPORATION in Japan and other countries/regions.